Mount Zion Missionary Baptist Church
Rooted in Christ, Reaching the One
Welcome to Mount Zion Church! We're always excited to welcome new visitors and hope you'll join us for worship at 9:30 a.m. on Sundays. Our church is located at 3801 McKelvey Road, Suite 201, Bridgeton, Missouri, and parking is located in the rear.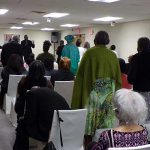 Don't worry about what you'll wear to church for we truly believe people should come to God as they are. You don't need to dress up to get his approval — that comes through Jesus' sacrifice. Once you walk in the doors, you'll see that the congregation has all types of people in all kinds of dress. While a few people in the church wear ties, others like to remind them that Jesus never wore a tie.
Be sure to hang around after the service, you'll have a chance to meet our pastor and many other people in the church. We want you to consider yourself among friends whenever you visit with us.
COVID-19 & Safety
We require you to wear a face mask during your entire visit. The seating has been arranged in accordance to public health guidelines. When you walk in, you will be greeted by our care team, who will then check your temperature with a touch free thermometer.
If you have any questions about the service itself, our care team members can provide helpful answers.
Service Times
Join us each week in person at
3801 McKelvey Road, Suite 201, Bridgeton, Missouri.
SUNDAY SCHOOL


Sundays at 8:30 a.m.
SUNDAY WORSHIP SERVICE


Sundays at 9:30 a.m. 
BIBLE STUDY


Wednesdays at 11 a.m.
Join Us Online
Are you unable to visit Mount Zion for our in-person worship?
No problem! Join us for music, praise and sharing testimonies during our virtual worship service at 9:30 a.m. every Sunday.